Take Advantage of the Rainy Weather!
With all this rainy weather we've been having here in the Niagara Region, you may think that there's no bright side..but there is! Here at Go Green Plumbing we are all about efficiency and that's why we are going to give you some tips on how you can make the most of what is looking like a rainy summer.
The easiest way to save rain water is with a rain barrel. Pictured there on the right,  a rain barrel is a very simple system that collects and stores rainwater from your roof that would otherwise be lost to runoff and diverted to storm drains and streams. Usually a rain barrel consists of a 55 gallon drum, a vinyl hose, PVC couplings, a screen grate to keep debris and insects out, and other varying items. A rain barrel is relatively inexpensive to construct or purchase and can sit conveniently under any residential gutter or down spout.  A rain barrel can save a homeowner up to 1,300 gallons of rain water during peak summer months! That water is perfect for watering plants or grass and washing vehicles. Many instructions are available online or in magazines to show you how to create your own rain barrel. If you're not a DIY kind of person, most large hardware stores or garden centres will sell them.
If you have any questions or concerns don't hesitate to e-mail us at info@gogreenplumbing.ca or call us at 289-244-9843.
Thanks for reading!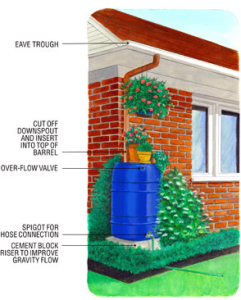 More Posts You May Find Interesting