The Plumbing on Maple Street
Thanks for tuning in to this week's blog.  Today we will outline the best of the best plumbing fixtures and products that will make you talk of the town when it comes to toilets.  After this, people will be saying, "that plumbing on Maple Street, tho" — and if you don't live on Maple Street, then move there, cuz it just sounds better than "That plumbing on Vansickle Road North, tho."  You know it's true.  Let's take a look at some of the best plumbing fixtures out there today.
Nebia Showerhead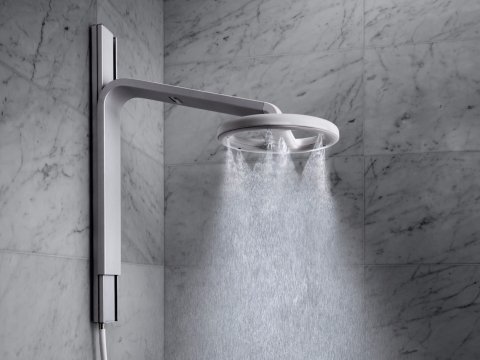 The Nebia Showerhead atomizes the water to create a mist that will save you approximately 70% of water.  Now, I know what you're thinking–if it really does save such a substantial amount of water, then the pressure is going to be lacklustre.
I thought the same thing.  However, Nebia has innovated the showerhead through advancements in science and technology.  Their system filters a stream of water through a space that creates millions of tiny droplets.  Those tiny droplets cover 10 times the surface area of a traditional shower head, according to the company. Nebia's promise is that they provide a more efficient shower experience that doesn't sacrifice water temperature or pressure.
If you are interested in reading more, please just out the Business Insider's review at the following link: http://www.businessinsider.com/nebia-shower-head-launches-2017-10
Altered:Nozzle  
The Altered:Nozzle system is similar to the nebia showerhead in that it creates a fine mist that claims to save 98% water.  As well, according to their kickstarter campaign, Altered:Nozzle retains full functionality–so why wait?  Normally, you'd say, wait until the price comes down.  Well, it's only $40 on Amazon.  So, once again, why wait?
What's different and actually super handy about Altered:Nozzle is that it attaches right on top of your current system.  Easy switch. Easy decision.  Sounds like a marketing campaign.  Anyways, brief disclaimer here, might be a little late, but hey at least it's here now.  We do not endorse, nor are we paid to post any of these products.  Honestly, they just seem super neat and we hope you think they are neat as well.
One final note about the Altered:Nozzle is that with a flick of the switch you can switch into a 75% water savings mode to help fill up pots, watering cans, etc.  If you do check it out, leave a comment below and what you think.  We'd love to hear from you.
That's all for this week, but if you have heard of any recent plumbing innovations or have used any yourself, send us an email at info@gogreenplumbing.ca and let us know!  Just think, we might feature it on the next edition of this blog.  How cool would that be.  If you have any questions or just want to chat about atomizing water, please do not hesitate to call us at 289-244-9843.  At Go Green Plumbing, we are always happy to help.



More Posts You May Find Interesting