We Appreciate You
Here at Go Green Plumbing we appreciate each and every one of our clients. Every once in a while, our clients go out of their way to show us how much they appreciate our work too! It seems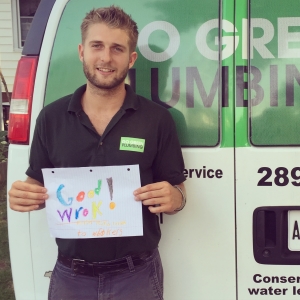 one of our younger clients liked the work done by Jordin so much, she made him a picture…and made our day!
We would like to take this time to thank all of our clients who have chosen to use our plumbing services and who have taken the time to recommend us to their friends and family as well – your recommendation is our greatest compliment!
We hope that our current clients continue to choose Go Green Plumbing and we hope to continue to gain new clients along the way.
If you should ever require our services or just have a question for us, our contact information is 289-244-9843 by telephone or info@gogreenplumbing.ca by email.
Thanks for reading and have a wonderful day!



More Posts You May Find Interesting